Color your Spring at the Riviera Maya!
May 13, 2021
You need some color in your life. Say hello to spring and experience a colorful and refreshing escape to the beach.
Can you imagine a place where you can walk through lush vegetation, lay in the white sand at the most beautiful turquoise beach with beautiful colorful reefs, and then visiting the ruins of ancient pyramids in all their splendor? Well, the Riviera Maya has all of this and much more!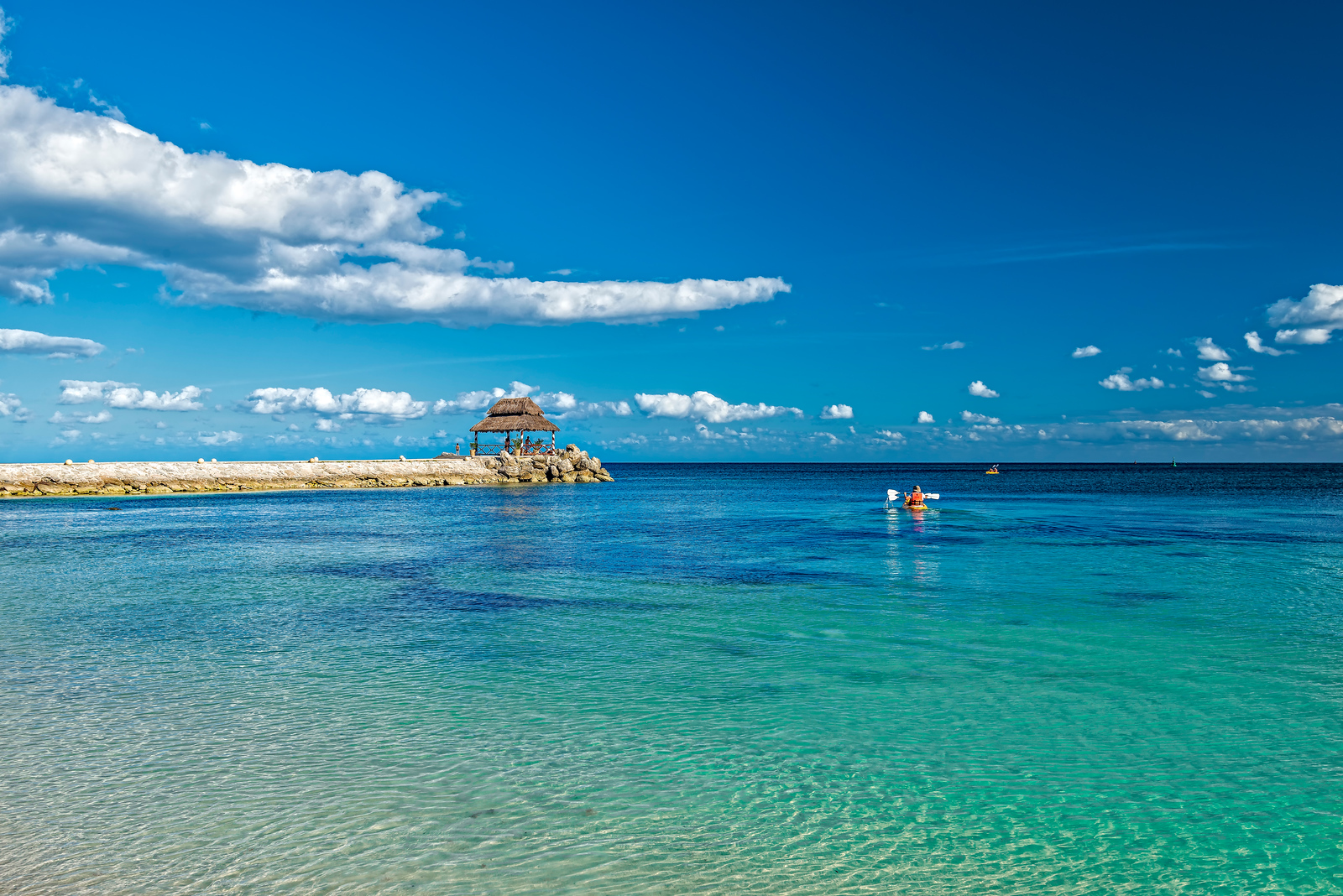 But, when is the best time to travel to the Riviera Maya?
The truth is that anytime is the right time, but if you like nice, warm weather and low humidity, May is the best month to come. This month is considered to be the high season, so you might want to book your hotel and tours in advance.
Now, come on, we know you've been looking at those pics and videos of Tulum, the pyramids, and the beautiful islands and beaches throughout the Riviera Maya and you are ready to come. Wait no more! Our two family all-inclusive resorts in Puerto Morelos are ready to welcome you: Hotel Marina El Cid Spa & Beach Resort and Ventus at Marina El Cid Spa & Beach Resort.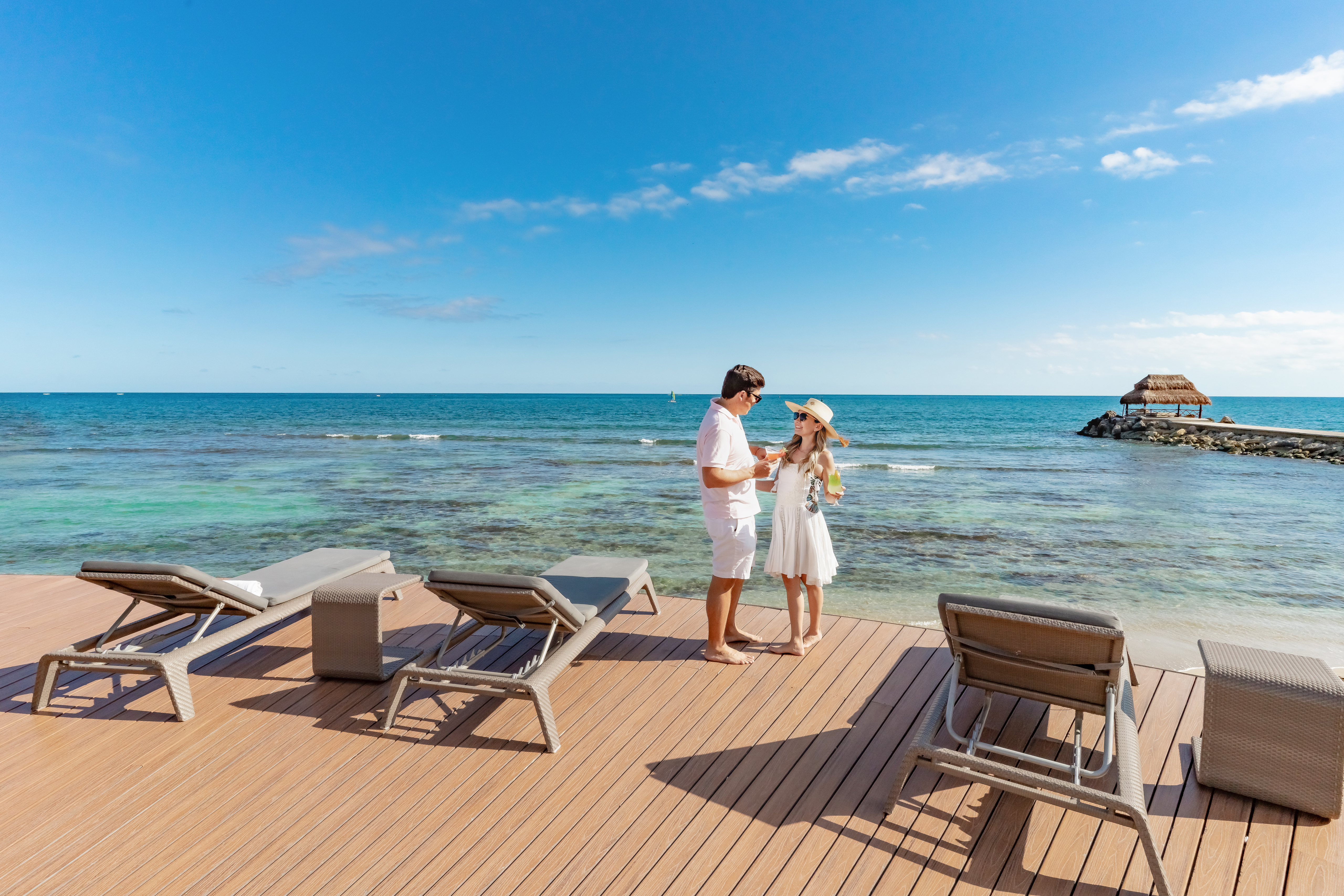 What to expect at the Riviera Maya with the COVID-19 situation?
COVID-19 has impacted everyone in more than one way, being locked in our houses, having limited contact with our loved ones, and carefully selecting the restaurants and places we want to spend time on is having all of us eager for a vacation.
At El Cid resorts we are aware of this, so we've partnered with two of the most world-renowned organizations that specialize in quality and hygiene processes and certifications: Preverisk and Cristal. This partnership and certification mean that all our staff carries out vigorous cleaning and sanitation procedures to ensure your wellbeing, whether you are in your room, or hanging out in our resort's grounds, out in the pool, taking a tour, relaxing at our Spa… we've got you covered.
You want to know more about our hygiene and sanitation procedures? Our #AlwaysCommitted protocol program will give you the answers you need for you to feel safe and comfortable with us.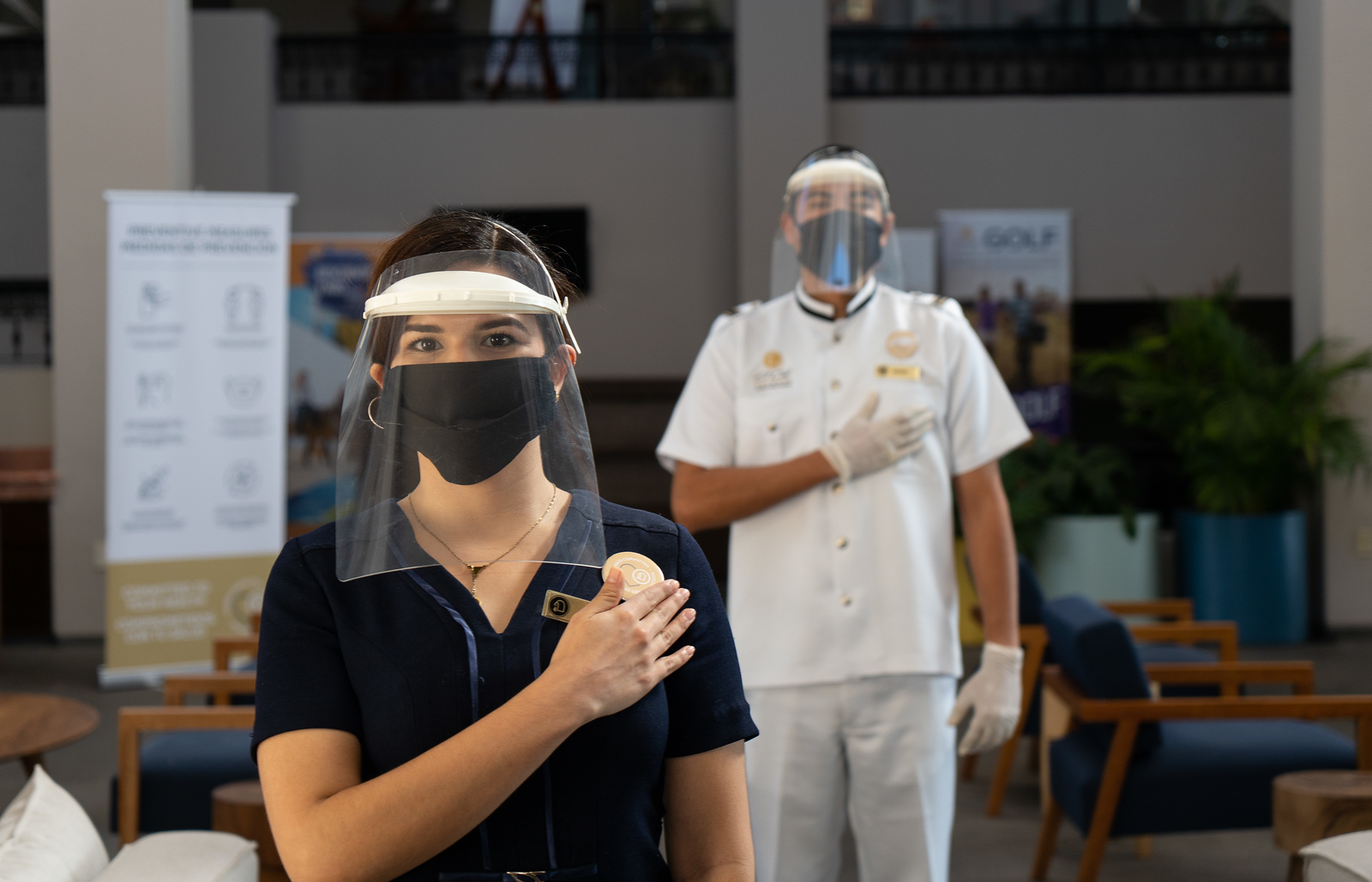 Things to do in the Riviera Maya
The wonderful thing about the Riviera Maya is that it has so many beautiful spots and towns you can visit, and they will all blow you away.
Places to visit
Puerto Morelos
Puerto Morelos, in Quintana Roo, is a place that preserves the essence of a small fishing village in the Caribbean. It's one of the most emblematic destinations in the Riviera Maya, where tradition is combined with adventure and nature to discover a secret world of wonderful attractions such as mangroves, cenotes, and an exuberant jungle.
This destination is the main port in the state of Quintana Roo, located on the Riviera Maya coastline, between Cancun and Playa del Carmen, and it's known for its tranquil beaches and Bohemian atmosphere.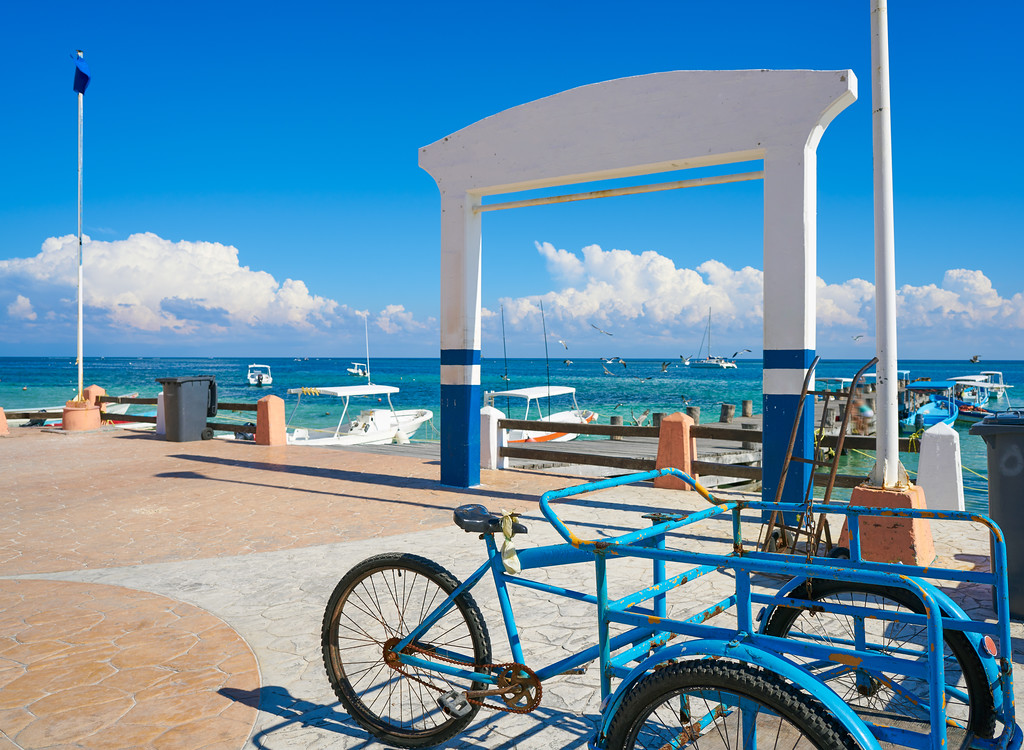 Our two resorts, Hotel Marina El Cid Spa & Beach Resort and Ventus at Marina El Cid Spa & Beach Resort are located right on the beach of Puerto Morelos, overlooking the Caribbean Ocean and offering you the most beautiful views you can imagine.
There is much to do here: enjoy the sea breeze walking along the boardwalk in front of the main square, where you can see the pier and the leaning lighthouse, an icon of Puerto Morelos.
You can walk or take a cab and enjoy all the wonders that Puerto Morelos has to offer, or you can book our tours and get familiar with the town while exploring all of its hidden gems, like the Puerto Morelos Reef National Park, a must-see in your trip.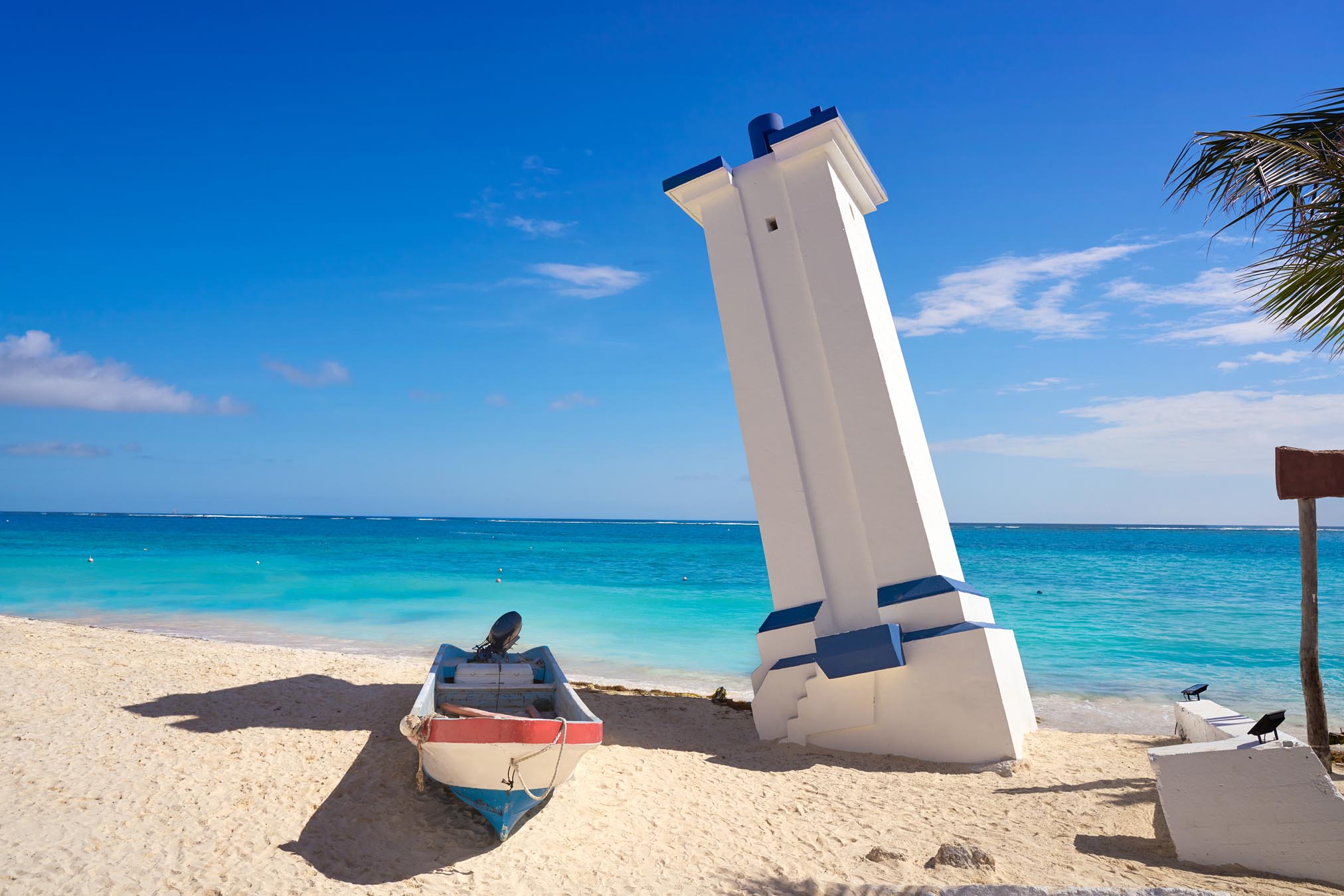 Playa del Carmen
Playa del Carmen is considered the "heart" of the Riviera Maya, seducing locals and foreign travelers with its 120 kilometers (75 mi) of shoreline and the most beautiful shades of blue on its beaches. The cenotes and theme parks nestled in the enigmatic jungle of Playa del Carmen give you the impression of being on another planet, while its famous Fifth Avenue has this cosmopolitan vibe and party atmosphere that attracts thousands of visitors each year.
The days in Playa del Carmen seem endless. Mornings are ideal to sunbathe and swim in the turquoise-blue waters. At sunset, downtown restaurants offer you a culinary experience that ranges from traditional Mayan cuisine to international fare. Afterward, you can walk down Fifth Avenue, well-known for its boutiques, handicraft stores, and bars. Parque Fundidores is a short walk away and features concerts and folkloric shows on its stage.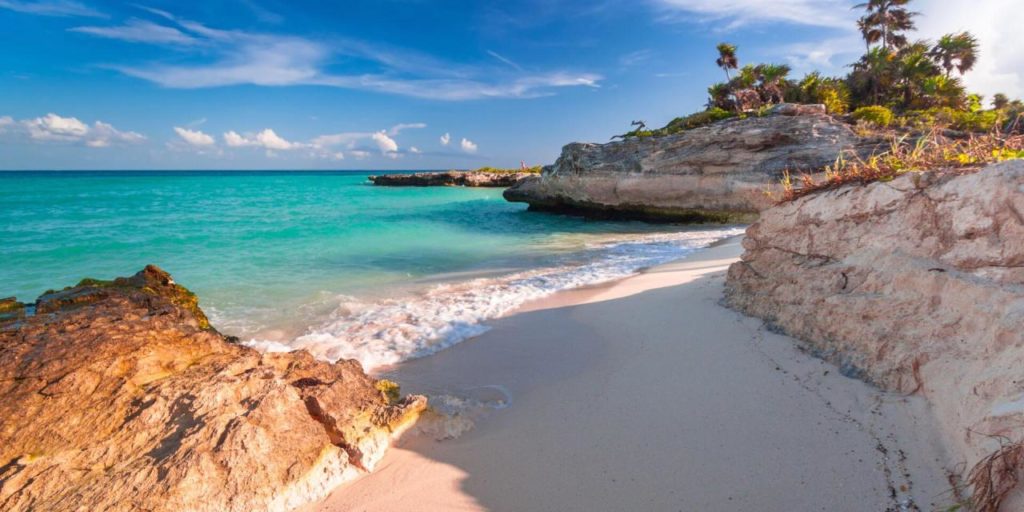 If what you're looking for is to connect with nature, booking a tour is what we suggest. Imagine exploring the Cobá archeological site, or walking through an underground cavern to see a glass museum of formations that tell the geological history of our planet. What a life-changing experience!
Playa del Carmen is located 76 kilometers (47 mi) from Cancún. You can travel, by land or ferry, from Playa del Carmen to other wonderful places, such as Tulum, Cozumel, and Isla Mujeres.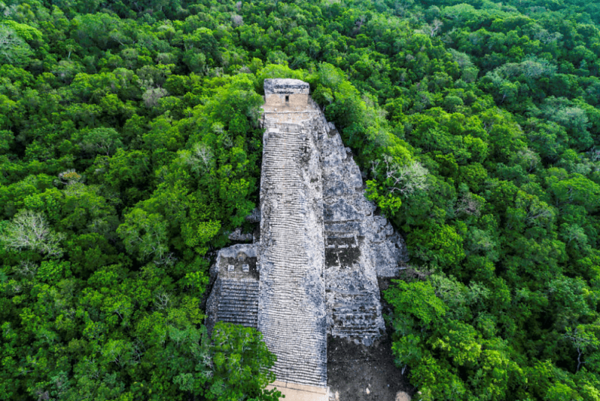 Tulum
Tulum is one of the most famous spots in the Mexican Caribbean, and no wonder why! Its ten kilometers (6 mi) of white-sand beaches and turquoise waters offer you a breathtaking view, and the simplicity of the locals and their friendliness will warm your heart. It was, after all, worthy of the "Pueblo Mágico" (Magical Town) designation.
There are only a few places where nature is present in all its magnificence, and Tulum is one of them. Crystal-clear lagoons, beautiful cenotes (deep natural wells or sinkholes), and a beachfront Mayan archaeological site once used as an astrological and trading center make Tulum the Caribbean Jewel.
Tulum's eco-chic atmosphere will make you feel in true connection with nature, which is perfect for walking downtown, which is located a mere four kilometers (2.5 mi) away from the coastline. For a casual afternoon drink, bars are at your service, and if you like mezcal, Gitano is a good option. You can also find small art galleries and hip-chic clothing stores and craft shops at every corner.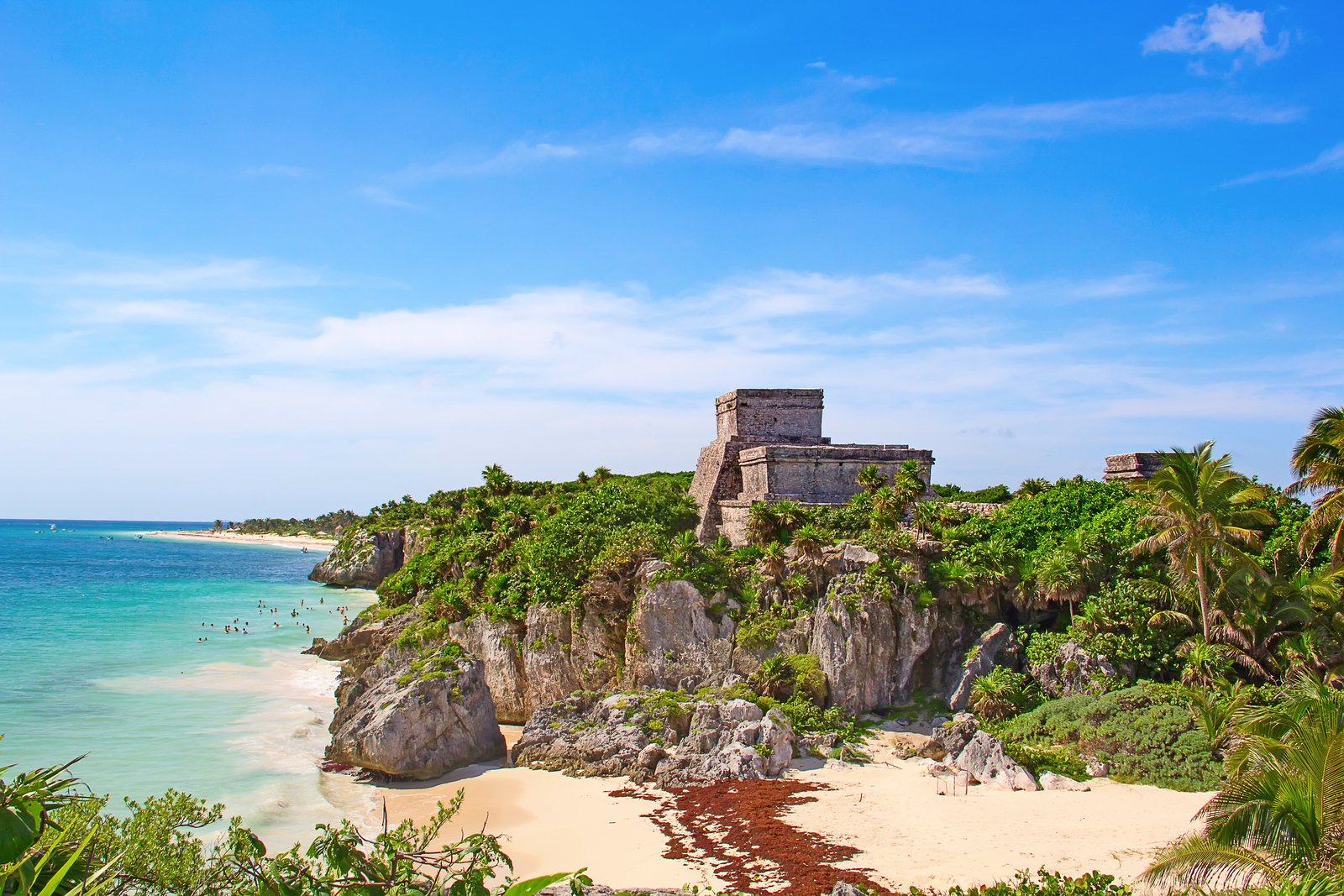 Isla Mujeres
A 20-minute ferry ride from Cancún will get you to Isla Mujeres, one of the Magical Towns in Quintana Roo, along with Puerto Morelos.
This little island is only seven kilometers (4.3 mi) long, but size doesn't matter when you're the first place in Mexico to be touched by the Sun every morning. Its ecosystem is so surprising that every year, from May to September, Isla Mujeres becomes the host of the whale sharks, the largest fish in the world. You can book one of our tours and sail through the Caribbean to truly admire the beauty of this island.
One of the advantages of being small is that you can become familiar with Isla Mujeres in just a couple of hours, whether it is walking, riding a bike, or one of the famous golf carts. They can take you to Punta Norte, where Garrafón is, a Natural Reef Park where you can get an all-inclusive ticket that allows you to stay in the pools, have a buffet, go into the zip-line, and more.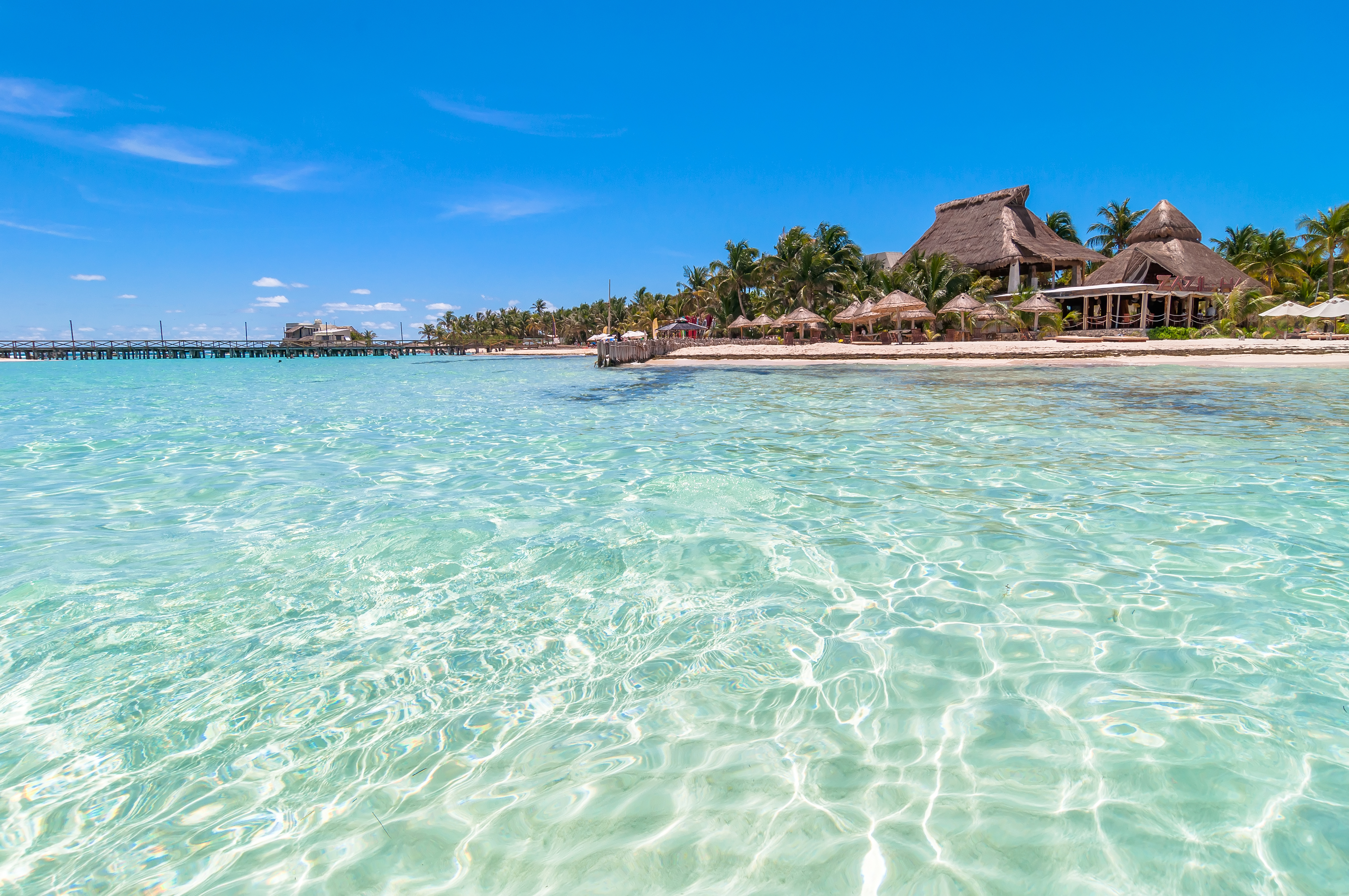 Holbox
One of the Riviera Maya's must-see is the island of Holbox, an oasis of peace and beauty.
This island is located northeast of Yucatán's peninsula, at Quintana Roo State. You have to navigate to the island starting at the Chiquila port. You can go up into a shared or individual boat at this location that will help you cross the Yalahau lagoon. This takes 20 minutes approximately.
If you come by car, this place is one hour and 45 minutes from Playa del Carmen, two hours from Cancún, and two hours and a half from Tulum.
Spring at Holbox is hot and sunny, so make sure you pack your sunscreen and stay in the shade.
Holbox has a 40-kilometer extension, so you won't need a car to move around and because the island is not paved. But don't worry, if you get tired or have too many margaritas, you can call a "taxi", golf carts that can fit up to four people and will get you anywhere you want.
Gastronomy on the island is so mind-blowing, since all you get is fresh products right out of the ocean, like lobster, which is famous in every form of preparation.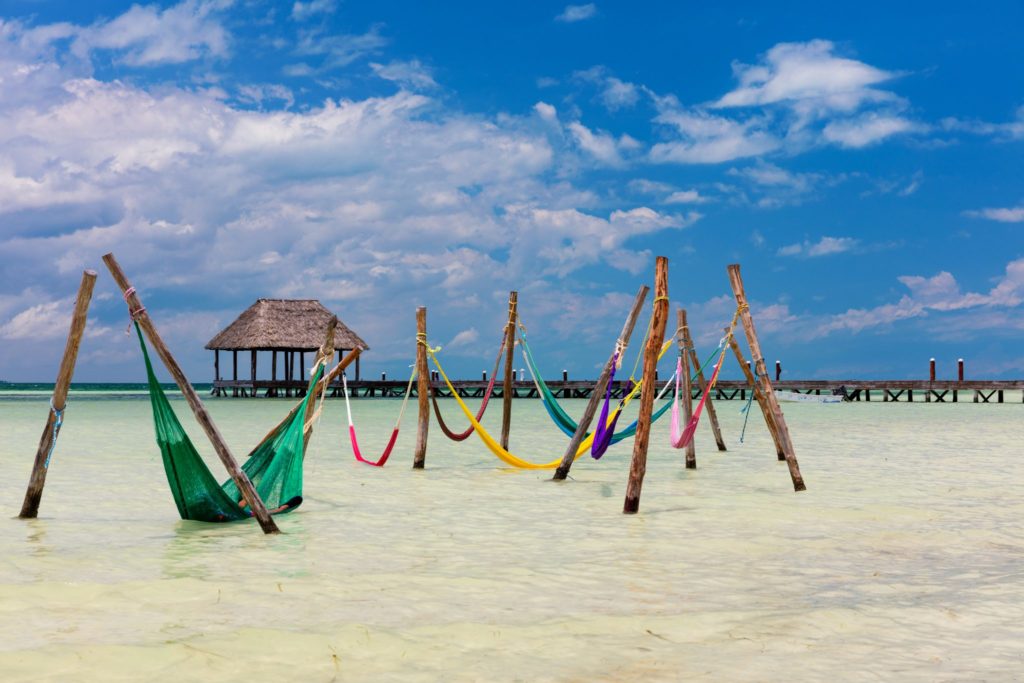 From the best gastronomic experience to exciting tours
Still hesitant about coming to the Riviera Maya? Well, take a look at the fantastic tours, cenotes, private beaches, and delicious restaurants down here. This place offers you so many things that you'll never want to vacation anywhere else.
Even though people are aware of what the "new normal" means, just remember to keep social distance while in the pool or on common grounds. It's very helpful if you book your tours in advance and book dinner reservations at our restaurants before your arrival, in this way you avoid queuing and save a lot of time.
Take a look at this guide we prepared for you and make the best out of your Riviera Maya trip!
A moment of relaxation
If you're one of the people who prefer the calm and silent ambiance in their vacation, the Riviera Maya is your go-to place. With the ancient history of our culture, shamans, and the connection with nature and Mother Earth, the Riviera Maya vibrates on its level. As soon as you step out of the plane, you'll get this pure, clean air that welcomes you in the most wonderfully, while our resorts await for you standing right on the beach, where colorful skies will light your days.
Our wonderful and full-equipped Spa will pamper you in ways you only dreamed of, and our Temazcal treatment will restore your energy, immune system, and spirit. Learn more about our Body and Spirit Reset guide in the Riviera Maya.
Looking for hotel deals in the Riviera Maya?
Look no more! We've got the best vacation packages for families and friends. So color your spring with some shades of blue and the beautiful colors of the reef park at the Riviera Maya, and don't forget to look at our Beach Vacation Package List to make sure you've got everything you need for your trip to paradise. We are ready to welcome you home!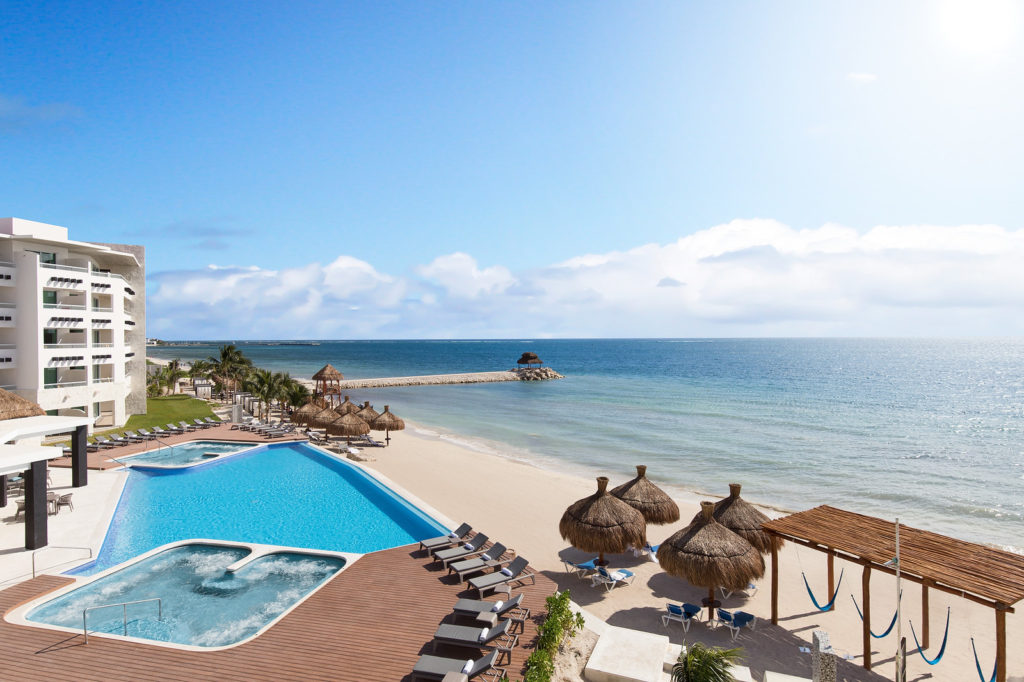 ---
Other Articles you may like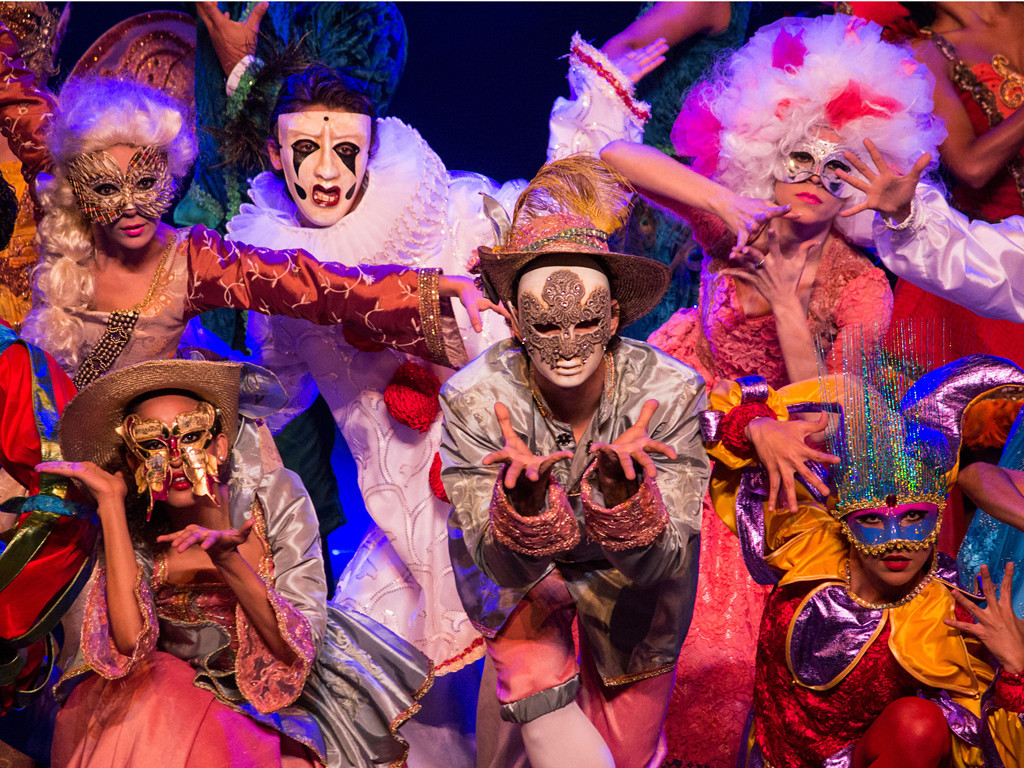 Why Mazatlán's Carnival is One Of the Best in the World
Carnival is around the corner for the beautiful city of Mazatlán, México. From February 27th to March 5th, local, residents and visitors will enjoy magical events during the seven day-festivity.
Read more